By Janet Purcell | It's not often a gallery in Lambertville has an exhibition of works by a living artist who has exhibited in Le Salon des Beaux Arts in the Carrousel Du Louvre and the Grand Palace of the Champs Elysees in Paris. I venture to say it has never happened in that quaint little river town. But it is happening now at the DeBogat/Belenikin Fine Art Gallery at 5 Lambert Lane, right there on the river's edge where there are 63 still life and landscape paintings by internationally recognized artist Elena Bogatyr currently on display.
Highlighting the collection is "Mimosa from Dinard," a 40-by-32-inch oil that is fresh from being exhibited at the royal palace of the Carrouse Du Louvre in Paris. Ildico Karvalis, who curated the exhibit, translates the artist's comment that this painting, as well as "Mimosa from St. Tropez" celebrate the return of spring.
In "Mimosa from Dinard" Bogatyr suggests a field of the flowers in the distance but draws our attention to those right up close. It is as if you are standing with her where they grow. Green twigs and leaves are interspersed in the soft-edged profusion of gold and yellow blooms.
Ildico Karvalis stresses that Bogatyr never works from a photograph, but always from nature and quotes the artist, "She says to me 'If you work from a photo, the air will not be in it.'"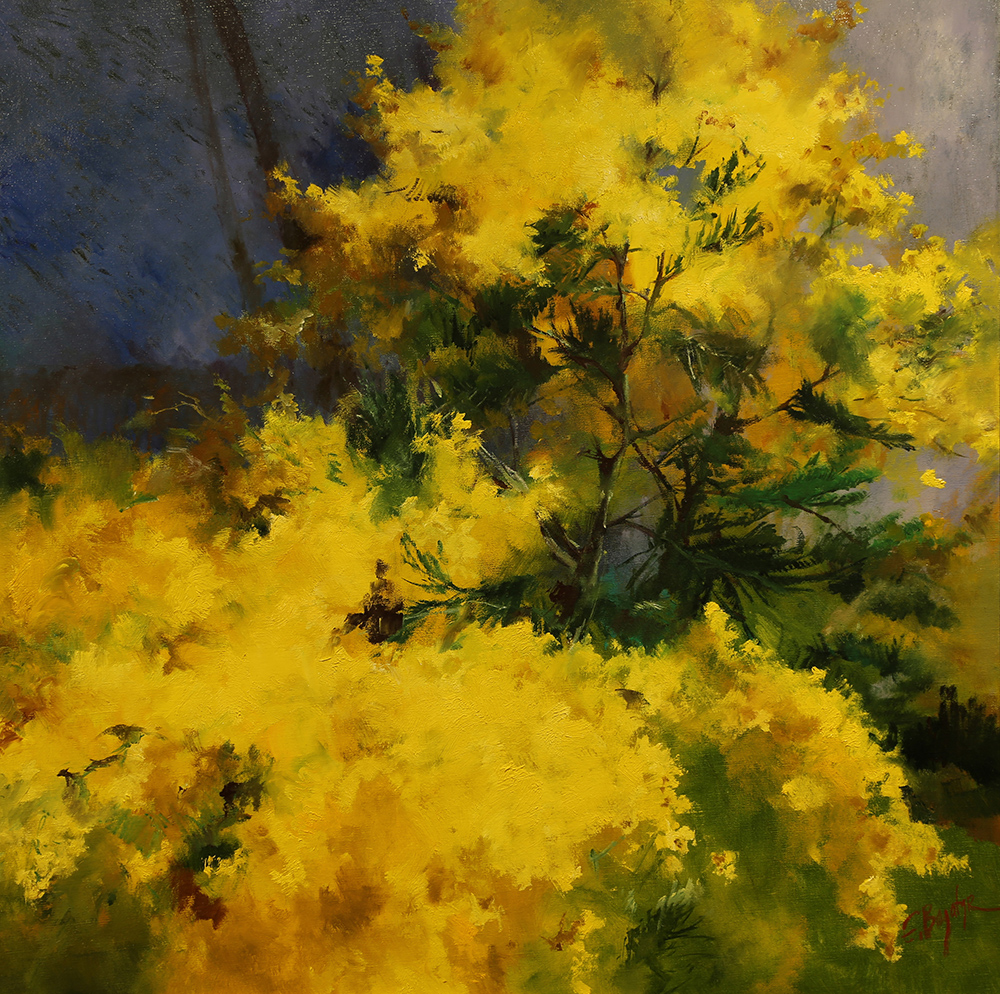 And you do feel that breath of air in all of Bogatyr's landscapes, florals, and, surprisingly, even in her floral still life paintings. "Mimosa from St. Tropez" brings the freshness of more gold and yellow mimosas indoors. They fill a blue and white china pitcher with sunlit abandon while a sprinkling of leaves and petals lie in the reflection on a shiny tabletop.
Related in translation by Karvalis and on her website, www.LouvreArtist.com, Bogatyr says, "My childhood passed in a country of harsh winters. I only saw the tiny twigs of the mimosa tree in spring. Now for 30 years I have been living on the banks of the English Channel where huge mimosas are covered with thick blossoms every spring. These are my strongest impressions as an artist. They are my favorite subject. To me they are a symbol of the annual revival of life, the power of the sun's light, wealth, joy, unconditional love."
The beauty of nature fills the walls in the DeBogat/Belenikin Fine Art Gallery. There's a vast field carpeted with violet, blue and lavender wildflowers that give way to spring green grasses and trees. There are pink and blue hydrangea bushes proliferating up the side of an old stone building. There are white peonies that fill a canvas and a pair of beached sailboats perhaps waiting for the tide to change.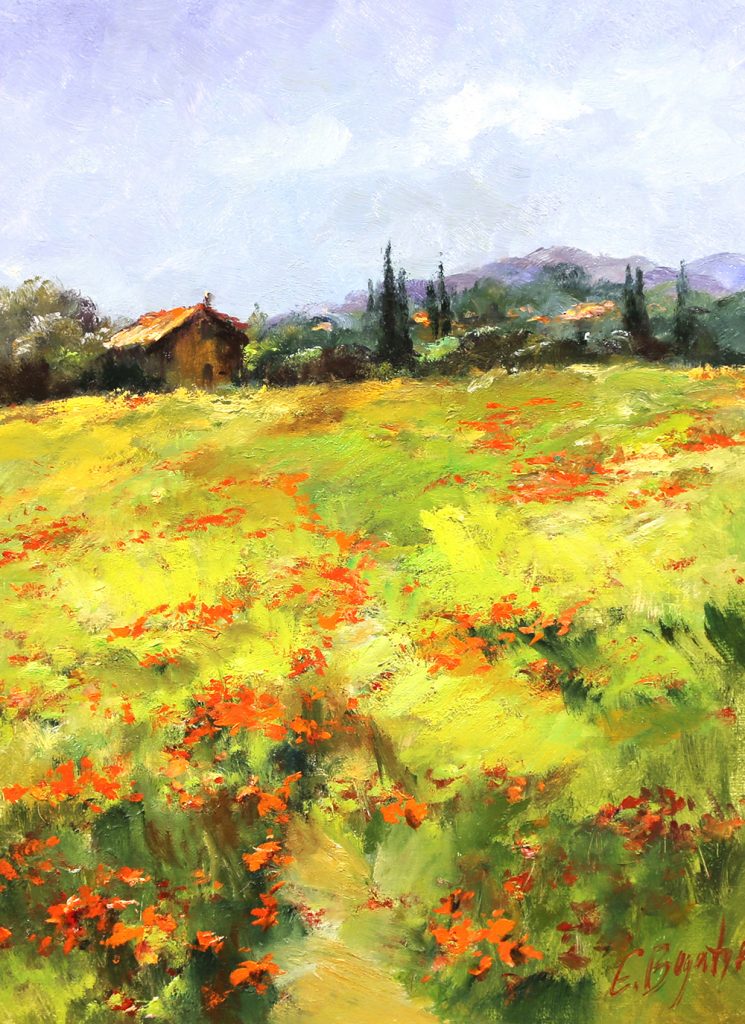 In another painting, Bogatyr takes up a hill of orange poppies growing in yellow and green grasses to a red-roofed brown building, some trees and the suggestion of a village at the ridge line with lavender mountains in the far distance. And then she shows us some of those orange poppies filling a glass bowl in casual arrangement, their buds drooping as poppy buds do and orange petals scattered around the glass bowl that is shining with sapphire blue light.
Since 1998 Bogatyr has crossed and re-crossed the Emerald Coast for color, light, following seasonal cycles. Ildico Karvalis says Bogatyr sometimes drives over 1,000 km (approximately 620 miles) a day to find the right landscape to paint.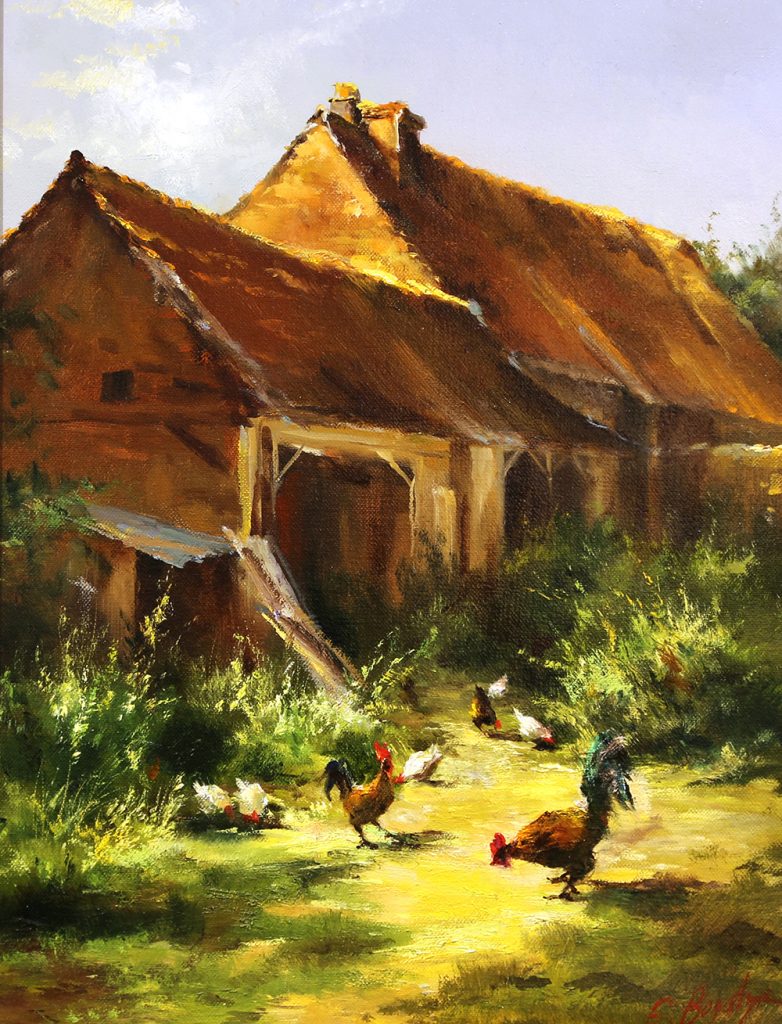 On the gallery wall, surrounded by flowers, landscapes and coastal scenes, is a charming painting of roosters strutting in the sunlight and white chickens pecking the ground around an old brown barn. Karvalis translates Botatyr's story: "For many years I went to Burgundy. There was a farm with cocks nearby, more than 100 cocks simply living for the joy of the owner who was a vegetarian. I never saw a bigger farm in my life. There is a shed and everything remained there, as it was before the war, and a lot of roosters, well a few roosters and chickens." She says she lured them to come close with sweet buns and cookies. "…for the sketch, I needed to see them so near me and see their eyes. And no one was aloud to eat those cookies."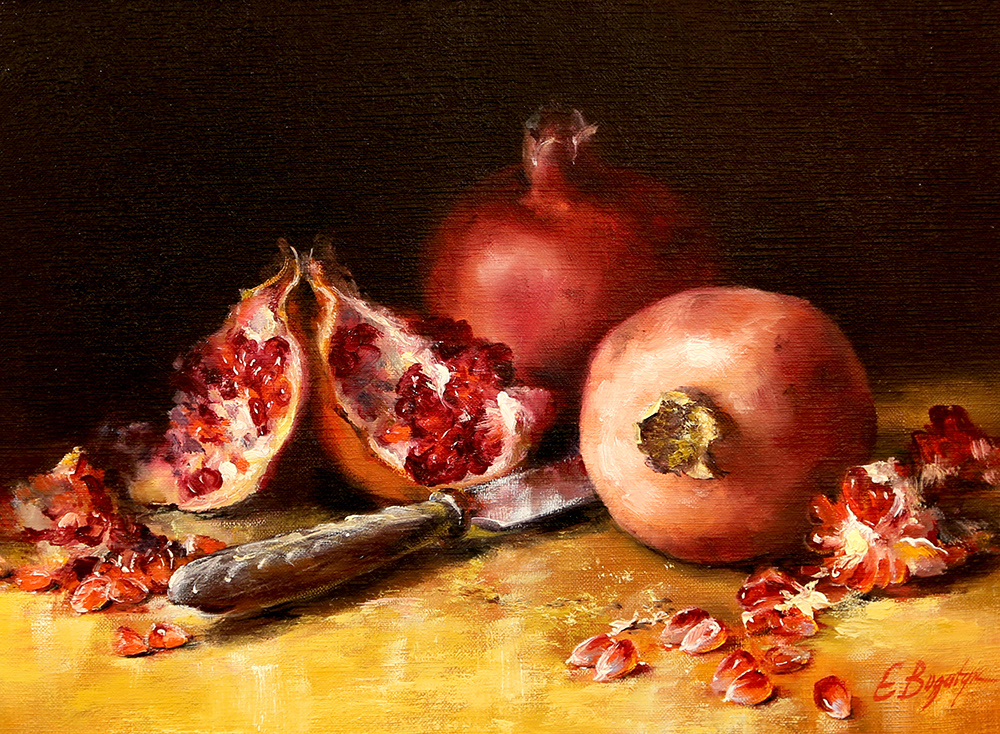 As if boats, landscapes, flowers and chickens aren't enough, there are a number of still lifes of fruits on display painted in the style of the old masters. There's a copper bowl of cherries, an overturned plate with oyster shells and a cut and peeled lemon, a few yellow pears and a peach standing in a delicious-looking puddle of their own juices, a pomegranate, and a still life with two lemons and a stem and leaf in a blue bowl surrounded by two other whole lemons and one that is partially peeled.
To say this entire exhibit is museum quality would be an understatement. The gallery is not large and all the framed paintings are displayed salon style. When you enter you are quite literally surrounded by fine art.
Having been honored by many prestigious awards such as the Vermeil Medal of the Academy of Arts-Science-Literature in Paris, Bogatyr's works are in private collections in the United States, France, Japan, Ukraine, Russia, Cuba, Luxembourg, Curacao, Netherlands, Great Britain, Ireland, and Egypt.
According to Karvalis, the first time Elena Bogatyr arrived in Lambertville she fell in love with the little town. "All the little shops, the galleries, the river–from the Seine to the Delaware. From the Louvre to Lambertville, right?"
Yes, right. Elena Bogatyr will be enjoying Lambertville again. She will be present at the opening reception Friday, May 18 from 6 to 9 p.m. where there will be cocktails, light refreshments, live music, and 67 works of fine art. She will also be present in the gallery
Saturday and Sunday during regular business hours before she returns to Paris.
By Janet Purcell
For The Times of Trenton
5/18/2018